Reviews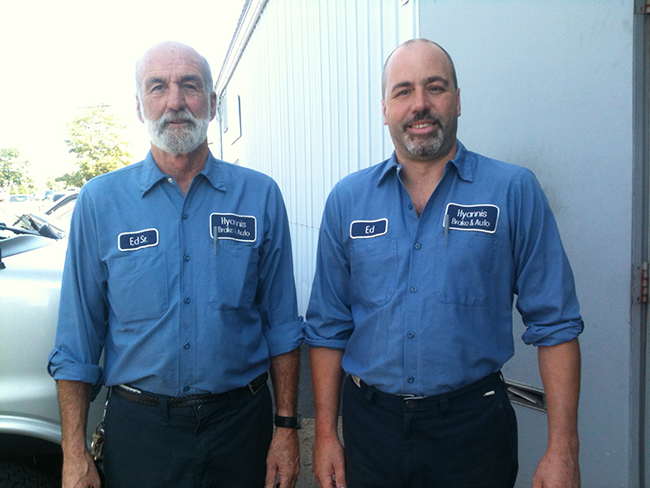 Our Certified ALLDATA Market Reviews :: Review Count: 2 :: Average Rating: 99.99% last 6 months

Blinn
from
Campton Nh
reviewed their last visit on
3/31/2015
and their testimonial is:
"

During a recent trip to the Cape for a family birthday, my car broke down. It was the wheel bearing. It was Friday afternoon, and Ed graciously took a look at it on Friday and repaired it Saturday morning! What a wonderful experience! So lucky to have found such a great shop. Highly recommend to all!

"

Peter O.
from
Centerville
reviewed their last visit on
2/22/2014
and their testimonial is:
"

Hyannis Brake has been our Auto Repair shop for the entire 40 years they have been in business. You can expect straight answers, quick service and no bill padding. If the problem is something that just needs a tweak it gets tweaked and you are on your way with your wallet still in your pocket. If the problem needs more attention, the service is top notch and prompt.

"
We service and repair the following makes:

Acura Repair
Audi Repair
BMW Repair
Buick Repair
Cadillac Repair
Chevrolet Repair
Chrysler Repair
Daewoo Repair
Dodge Repair
Ford Repair
Geo Repair
GM Repair
GMC Repair
Honda Repair
Hummer Repair
Hyundai Repair
Infiniti Repair
Isuzu Repair
Jaguar Repair
Jeep Repair
Kia Repair
Land Rover Repair
Lexus Repair
Lincoln Repair
Mazda Repair
Mercedes-Benz Repair
Mercury Repair
Mini Cooper Repair
Mitsubishi Repair
Nissan Repair
Oldsmobile Repair
Plymouth Repair
Pontiac Repair
Prius Repair
Range Rover Repair
Saab Repair
Saturn Repair
Scion Repair
Smart Repair
Subaru Repair
Suzuki Repair
Toyota Repair
Volkswagen Repair
Volvo Repair
Yamaha Repair
Powerstroke Repair
Kubota Repair